Landis Adult Day Services is an affiliate of Landis Communities. As a leader in senior services, Landis Communities exists to create opportunities for older adults to grow and thrive. We are committed to enriching the lives of those we serve by honoring their diverse needs and interests in whatever setting they call home: retirement communities, 55+ active adult living, affordable living options or services provided in-home.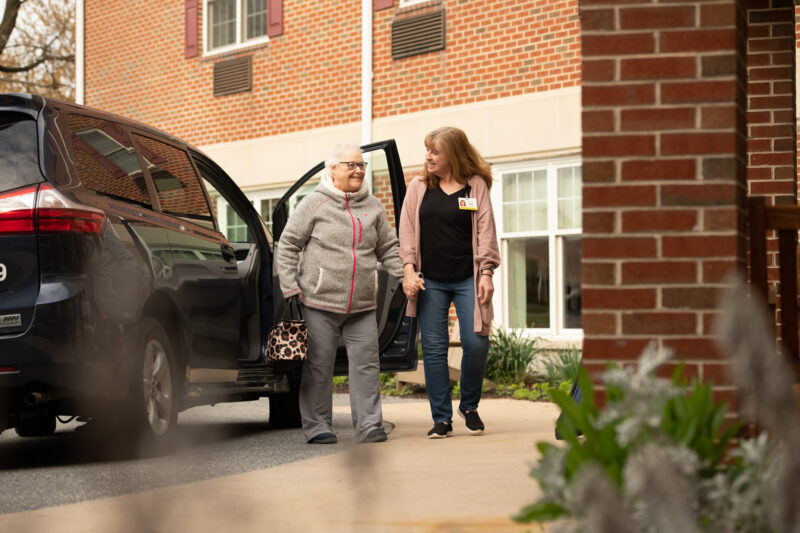 "My mother wanted to stay in her home, but we worried that she would forget her medication or fall. No other place felt like 'home' the way Landis Adult Day Services does. She loves visiting 'the girls' four days a week, and their exercise time has really increased her stamina. This program has truly transformed each day for our family."
–From a client's daughter
Frequently Asked Questions
How do we begin the admissions process?
Contact us to have an information packet mailed to you and to arrange a tour of the center.
Does my loved one have to stay for the whole day?
Your loved one is free to arrive and depart at any time during our hours of operation. We have a full-day and half-day option for attendance. Half-day is up to 4 hours; a full-day is any period longer than 4 hours.
Does my loved one need to attend every day of the week?
Some clients attend just 1-2 days per week; some attend 5 days per week. Space availability and the needs of the client and family determine attendance.
Can my loved one come any day?
We maintain a maximum number of clients each day; clients choose specific days of attendance when beginning participation in the center. If changes to that schedule are needed or desired, family members may contact the director of the center to determine if a day can be added or changed to another day.
How will my loved one get to and from the center?
Family members or caregivers may bring clients to and from the center. Transportation is also available through Red Rose Transit Authority for all of Lancaster County. It is a door-to-door service and subsidized by Lancaster County Office of Aging for adults over the age of 65. They serve all of Lancaster County; the cost is between $2.00 – $6.50 each way depending on the mileage from the center to where you live.
Do you serve people under the age of 60?
Eden West serves all people, any age, with a diagnosis of dementia. Our center may only serve 3 people under the age of 60 without a diagnosis of dementia.
Are there any programs that will assist with the costs of attending Adult Day Services?
There is assistance available through the Lancaster County Office of Aging, the PA Office of Long Term Living, and the Veterans Administration if you qualify. Contact them directly to check the qualifications and availability. Landis Homes offers a financial aid fund as well.
Publications
Adult Day Services Newsletters
Landis Communities Flourish Magazine
Landis Adult Day Services works collaboratively with Lancaster County Office of Aging, Lancaster County Behavioral Health and Developmental Services and the Veterans Administration in providing services to clients. Clients have the right to be provided services at this center and be referred for services at other centers without regard to age, race, color, religious creed, sex, disability, handicap, ancestry, national origin or ability to pay.
This program is funded, in part, under an Agreement with money allocated by the Pennsylvania Department of Aging and the Lancaster County Commissioners, through the Lancaster County Office of Aging.